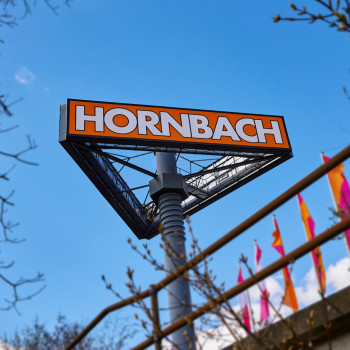 Transus meets Hornbach's requirement with EDI and SSCC label service
Hornbach has long required any suppliers looking to sell their products through Hornbach to work with EDI. As of 2020, Hornbach imposed even stricter requirements, asking all suppliers to mark their shipments with an accepted SSCC label.
Working via EDI
EDI was created for the digital exchange of orders, invoices, dispatch notices, product information, pricing information, and stock information. The main advantage of EDI is that it reduces the number of manual operations needed to exchange data, resulting in greater speed and fewer mistakes. It's essential for smooth supply chain processes.
Transus as a translator
As an EDI provider, Transus is a specialist in 'translating' EDI documents. Mike van Dorssen, Director of Transus Netherlands, explains: "When a retailer submits an order, its order processing system uses its very own format to do so. Their supplier, however, may work with an entirely different system that cannot 'read' that format, and the same goes for documents sent the other way. Transus acts as a middleman, translating the document sent by the retailer before delivering it to the supplier, and vice versa."
That's if the document doesn't contain any errors, however, as Transus's automatic validation system detects and blocks incorrect documents. "Thanks to our validation system, documents containing errors are automatically blocked. When a document fails this validation processes, our system always triggers an automatic notification, prompting the sender to go to Transus Online and locate the error. Because we know that not all users are equally IT-savvy, all steps are described clearly in plain language."
Van Dorssen also points out that trading partners of Transus customers also get access to Transus, even if they're not Transus customers themselves. "Because we want to offer transparency and insight into processes, both parties can sign into Transus and track the current status of every document they send and receive."
Hornbach delighted with Transus
"As the EDI market leader, we offer a reliable and affordable total-package solution." Suppliers of Hornbach, in the Netherlands and abroad, have worked with Transus EDI for some time now. "Hornbach has noticed that processes involving suppliers that have Transus EDI are a whole lot smoother. Another major advantage is that, although we have our headquarters in the Netherlands, we also operate in Belgium and Germany, where Hornbach is based."
Transus also has a special SSCC label feature, allowing it to generate GS1-certified SSCC labels. With a view to the mandatory use of SSCC labels as of 2020, Hornbach has indicated that the SSCC labels generated by Transus meet their requirements.
Van Dorssen adds: "If our customers want to start up EDI with a new trading partner who is already connected to our global network of companies, they can link up and start exchanging EDI documents with the push of a button. If their new trading partner is not connected yet, we'll simply connect them free of charge. After all, we want EDI to be accessible and within an arm's reach for everyone."