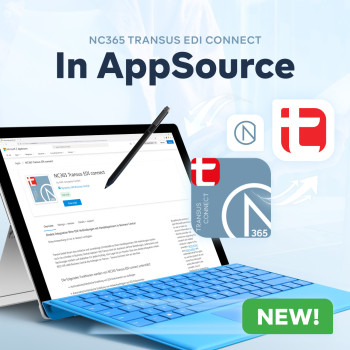 Transus EDI interface to Microsoft Business Central
Transus partner NAS conception launches new app NC365 Transus EDI connect.
With NC365 Transus EDI connect, NAS conception's AppSource offering offers a simple and direct way to connect Transus EDI to Microsoft's Business Central environment.
With the innovative app addition from the Düsseldorf-based Transus partner, users of the NC365 ERP solution can benefit directly from all the advantages of EDI-ERP integration and automate their processes. Fewer errors thanks to seamless data flows and more time for customer care or business development.
Within the familiar ERP environment, all the powerful features of the international Transus EDI network are just a click away: partners, suppliers and customers can be added without limit, and business messages can be exchanged without limitation. In addition, all current information is summarised in the Transus Dashboard: Latest messages, statistics to share with business partners and much more.
The biggest plus of Transus EDI also remains in connection with the NC365 Transus EDI connect app: Its modularity and scalability. Starting small and growing together is part of our shared vision: "EDI for all".
More information on the NC365 Transus EDI connect app is available on the NAS conception website.