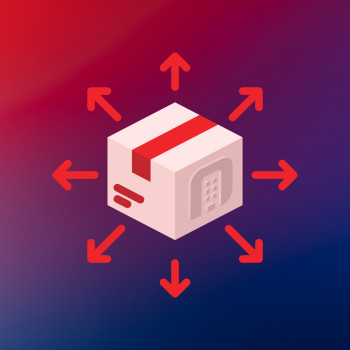 EDI Plus: For whom an upgrade is worthwhile
EDI Basic users have already experienced the many advantages of working with EDI from Transus. But with an upgrade to EDI Plus, further extras await, with which companies in trade can work even more efficiently and optimise their business processes. This applies especially to the area of logistics.
A good start with EDI Basic
Our intuitive EDI web portal is the entry point for many into the cloud-based EDI world of Transus. Here, users already benefit from unlimited document exchange with their trading partners, real-time visibility of all their messages and automatic message validation. They can also rely on our support when needed. With EDI Plus, these functions remain unrestricted.
The flow of goods is always in view thanks to SSCC label generation
An efficient function of EDI Plus is the SSCC label generation. The labels with this internationally unique number, which can be used to identify a shipping unit, are automatically generated in the GS1 standard, thus ensuring that all shipping units are correctly labelled. Users can, therefore, better track the flow of goods and identify and, if necessary, counteract bottlenecks or delays.
Automatic transport configuration for better communication
Another advantage of EDI Plus is the automatic transport configuration. Thanks to this function, companies can generate SSCCs, which are then fully automatically assigned to shipping units and then transmit their shipping data (shipping notification) directly to the logistics partner without having to make manual interventions. EDI Plus thus enables seamless communication between the trading company and the transport service provider, enabling deliveries to be processed more quickly, which benefits the entire delivery process. Companies thus save time and minimise the risk of transmission errors.
EDI Plus: Logistics taken a step further
With EDI Plus, trading companies receive a mature solution that expands and automates the functionalities of EDI Basic meaningfully. Especially the logistics process benefits from the additional possibilities such as SSCC label generation and automatic transport configuration. Thus, EDI automation becomes even more efficient with EDI Plus. In addition, you can link your ERP system directly and/or exchange messages purely from the Transus web portal. It is, therefore, worth upgrading to EDI Plus for all those who want to think ahead in their logistics.