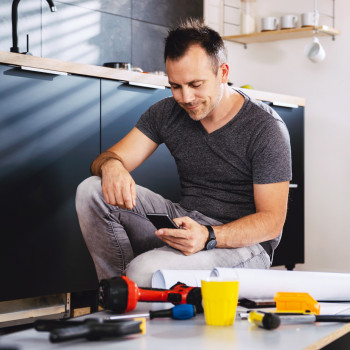 DIY sector continues to build online presence
The Twinkle 100, the list of the most popular online retailers in the Netherlands, was published on 19 September. This year marks the first time that supermarkets have cracked the top 10, with Albert Heijn coming in third place. Unsurprisingly, bol.com and Coolblue, respectively, took first and second place in the Twinkle100.
Figures presented by Statistics Netherlands (CBS) last June showed that online sales had increased more than retail sales. In the food sector, supermarkets generated the highest turnover, with DIY shops and furniture shops performing best in the non-food sector. In both sectors, online sales had grown more than retail sales, with multi-channelers growing the most.
Consumers go online for building supplies
It can no longer be denied that consumers love online retailers. And this development isn't just restricted to supermarkets: DIY shops have also seen their online sales take off. Hornbach (63rd place in 2018) and Gamma (29th place in 2018) made it to 43rd and 25th place, respectively, in this year's Twinkle100. As a new entry, Praxis also made it to this year's list, coming in at number 61. This year was also the first time that online tool seller HBL Online was listed, reaching 75th place.
As we indicated in an article published in June, consumers don't just want quicker delivery, but also look for accurate stock and product information. It is extremely important for suppliers and online retailers to have their entire order process in order, making sure that stock information, product information, orders, invoices, confirmations, and other data can be exchanged quickly and correctly. Fortunately, this is all made very easy with EDI, and linking your own systems to EDI will make your processes even more efficient.
Transus as a preferred supplier
Did you know that we have over 16 years of experience as an EDI provider for various leading companies in food, DIY, retail, e-tail and fashion? As a result, we know better than anyone how different industries all have their own specific processes and speak their own 'languages'. It's not for nothing that we're a preferred supplier for both Hornbach and bol.com!
Our platform is intuitive and easy to use, even for those who aren't blessed with advanced IT skills. On top of that, Transus Online also offers full, real-time insight into all processes, making EDI feel less like a 'black box'. Finally, everyone can use our global network of more than 100,000 companies. If you are subscribed to Transus Online and are doing business with a partner who has not yet joined our network, we'll connect them for you free of charge.
Sources: NOS – Twinkle100 – Mix Online